Dryer Repair San Diego – Local Service Near Me
Electric and Gas dryer repair service in San Diego. We repair thermal sensors, igniters, drum motors, and replace wear and tear parts like belt replacement, tensioner pulleys and bearings.
Dryer vent cleaning service In San Diego
If dryer is working ok, but after drying cycle clothes still come out damp, or not as crisp and dry as they used to, the problem may be caused by filthy dryer vents.
We repair gas and electric dryers in San Diego County. I dryer not turning on or spinning but not heating up your appliance repair experts at 858 Appliance will diagnose and fix clothes dryer problems in one visit. Laundry dryers unlike washing machines are more repair friendly and the breakdowns are usually caused by failed safety small sensors or switches.
Repairing gas or electric dryer often makes sense due to failed parts aren't expensive. To request a repair service please call (858) 277-5426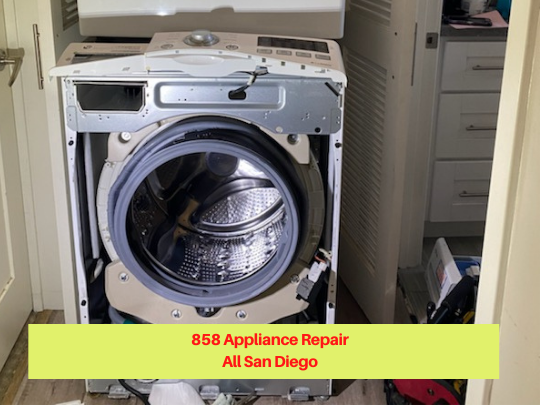 Talk to appliance repair specialist to help you figure out what is the problem you are having not only with dryer, but any home appliance. We repair Refrigerators, stoves and cook tops, built in ovens and electric ranges. Please visit our website for appointment and contact information.
Here is the latest about dishwasher repair and maintenance
https://posts.gle/8cRkAq
Also check out what our previous customers are saying about our tech who have repaired their appliance. Many great reviews and rating on Yelp. https://www.yelp.com/biz/858appliance-san-diego
858 Appliance Repair
3701 El Cajon Blvd San Diego, CA 92105
(858) 277-5426
The experts at 858Appliance know how to keep your dryer appliances operating in top condition, efficiently and effectively year round. We can keep your clothes dryer in motion and prevent cycles that are too hot or too cold that could be damaging your clothes. Keeping your dryer vent operating properly is one of the easiest ways to avoid household fires.
If you notice longer running times or an increase in your energy bill consider having one of our experts check that your laundry room is operating in peak condition.