San Diego Appliance Repair, Parts and Home Service
Ready to choose trusted San Diego Appliance Repair company to fix your broken appliance? – Trust your appliance problems to 858 Appliance Repair. A family owned and operated local business has striven to meet and exceed our customers expectations with honest appliance repairs completed on time and on budget.
REFRIGERATOR REPAIR |  WASHING MACHINE REPAIR | DRYER REPAIR | STOVE OVEN REPAIR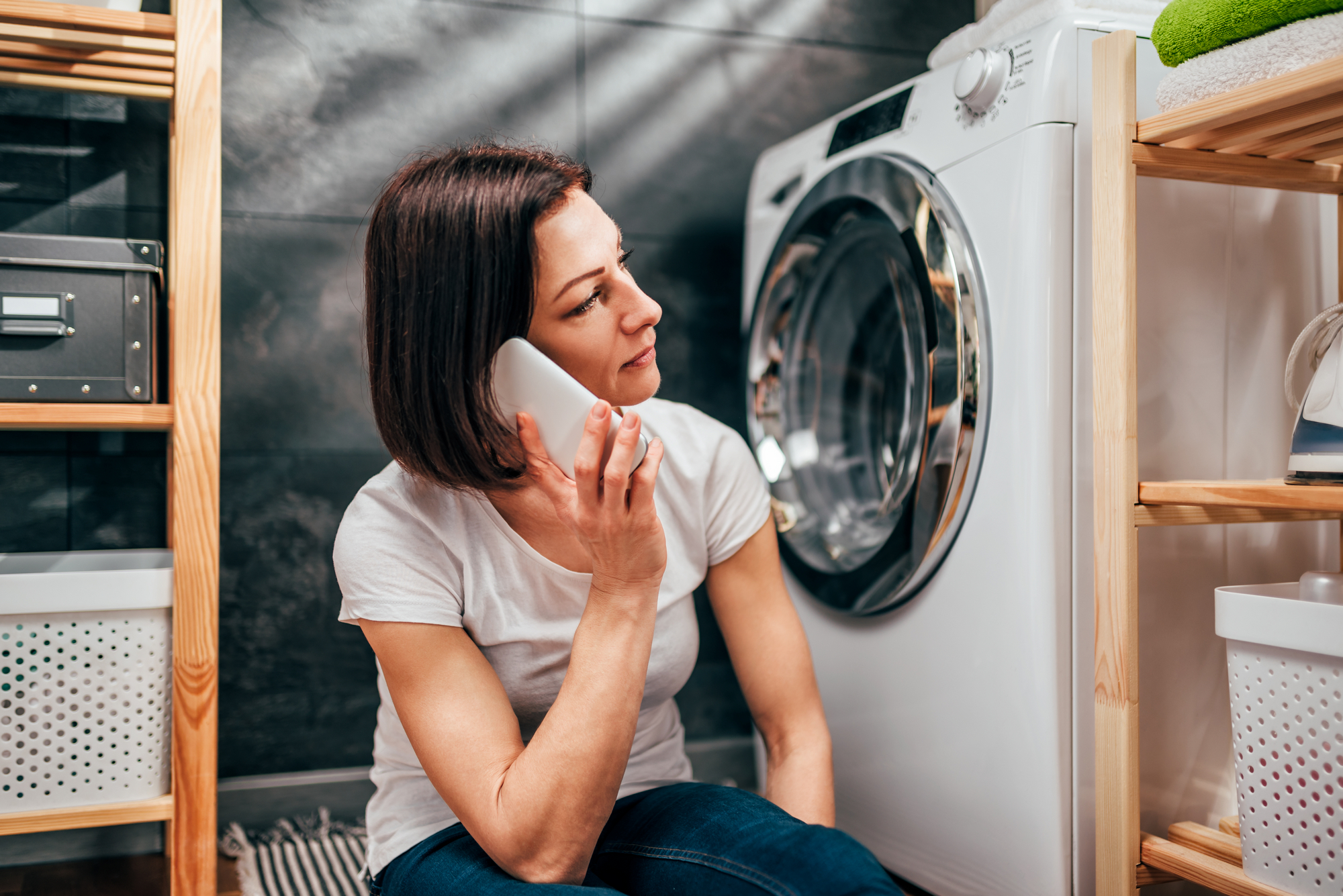 We Service All Major Appliances
We have been offering appliance repair services in San Diego Metro Area since 2005. For two generations our best asset is the experience of our highly trained technicians. They are heroes who keep our business running year after year.
It could be a washing machine, laundry dryer, refrigerator, stove, or dishwasher repair, or any other residential appliance will be repaired with your time and budget in mind. When you call 858 Appliance Repair our friendly knowledgeable answering staff will try to determine the possible cause of problem to dispatch a specialist with correct parts in stock for that specific model.

Searching for Appliance Repair Near Me
We asked our clients what criteria are important to them when hiring appliance repair company and the most common answers were fast and punctual response, honesty and experience. With several offices in county our repair men usually are able to arrive within couple hours and most repairs are completed on the same day. If you are searching for available San Diego appliance repair near me, we are here for you. From Chula Vista to Carlsbad our repair vans are on the road 7 days a week.
Thank you for your trust. Our trained, professional and clean repair experts arrive to your home or business on time with all necessary tools and parts to quickly diagnose and remedy the problem.
We are here to provide San Diegans piece of mind appliance repair performed by skilled technicians with great attitude to make your experience worry free. You will only receive safe, dependable, high quality appliance repair that you need – delivered fast.
Our technicians and friendly staff have years of experience to assist you and your family. When you choose to hire 858 Appliance, you'll be assured that we only repair your broken appliance and not sell you unnecessary parts or price gouge you in any way, if the repair is not possible or if you decide not repair the unit (too old or repairs are too expensive) we only charge $39 service call fee. Its great to know that your appliance repairs are done correctly and come with a 90 day warranty on parts and installation.
Same Day Refrigerator repair in San Diego
When your refrigerator is not working well, it often cost you money and stress. Often failing refrigerator causes food products to spoil. Most common problems with residential refrigerators are not cooling, ice buildup, leaking water.
Washing Machine and Dryer Repair
You could get by for a week or two with broken clothes washer, going to a friends house to use their laundry or taking your hampers to a local coin laundry down the street.
We Fix It To Last – Warranty on all Appliance Repairs
After appliance repair rest assured we will be here if any questions or issues arise. All our repair work comes with 3 month warranty on parts and labor. If the appliance isn't worth repairing well tell you right away.
Appliance Repair at Home In All San Diego County.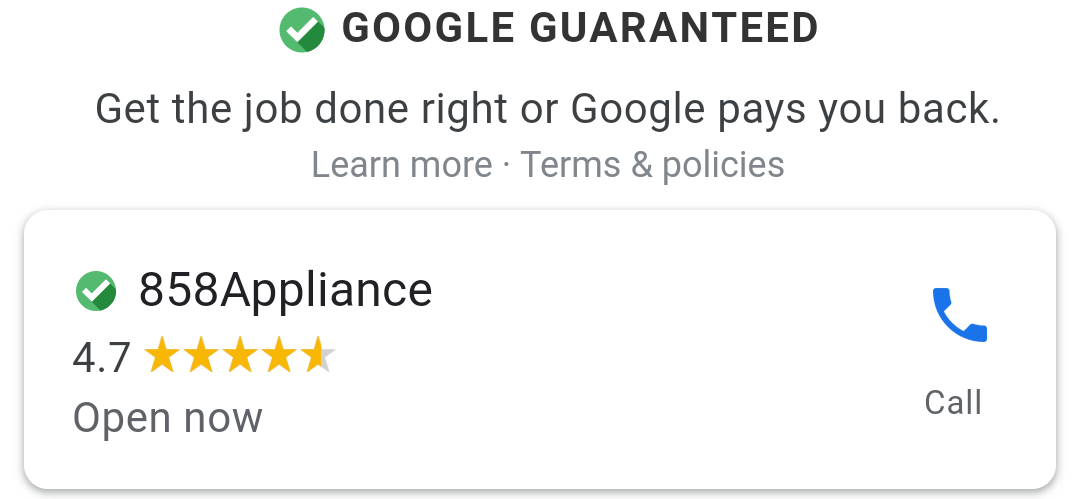 Your time is valuable and to accommodate you best You pick your time and day that suits you best and our repairman will come to you. Large or small appliance repair can be completed same day at your home in a few hours. If it's a ice buildup on the back wall of a refrigerator or a washing machine with loud shaking spin cycle, our techs are seasoned and experienced.
When to repair or replace home appliance
When something breaks in your home, like a computer, air conditioner, part of old fence, kitchen appliance – there are usually two options to repair it or to buy a new one. Depending with option makes more financial sense that is usually the case.
To make your decision easier it is recommended to replace appliance if repair cost is more than half the price of a new appliance.
Can I fix my appliance myself?
If your broken appliance like washer or dryer, or dishwasher displaying error / fault code on a digital display, you may be able to determine the problem yourself. Just enter fault code message together with brand name in to Google search and you will have a general idea what caused your appliance to stop working. In regards to fixing it yourself – you should only attempt if you are 100% sure you understand the problem. If you are a bit unsure – leave it to experienced professional. You should know that most companies will not take on a job if you or someone else already started fixing your appliance, but for some reason could not complete the repair.
If my appliance is older is it still worth to repair it?
You may have hear the phrase " they don't make them like they used to" . Some older Whirlpool refrigerators could last over 20 years without any repairs. If you're your appliance repair costing almost half what it would cost to buy new, you should seriously consider upgrading it. Because of the age of all components there is increased chance that other parts will start to fail soon.
Do I need to switch off power to the house for repair?
Usually no, most appliances are just plugged in, but some units like dishwasher or electrical stove or range could be hard wired and repair specialist will need access to a breaker panel.
How long do home appliances last?
According to a study from National Association of Home Builders you can expect an average life of 13 years for Refrigerator, 10 years for Washing Machine, 13 to 15 years for a Stove, 12 years for Garbage Disposal, 9 years for Dishwasher and Clothes dryer last around 13 years. Of course it also depends on manufacturers brand, and how often appliance was used.
We provide freedom from worry to your family
In addition to honest and affordable appliance repair services, all technicians we hire are background checked and drug tested. We have great confidence in our staff and it also provides a peace of mind to clients when repair personnel arrives to their home.
We Specialize in:
and many other type of appliance like wall ovens, cook tops, built in fridges and more.
Our service call fee is only $39 or it's FREE when you have your appliance repaired by us. Give us a call to schedule a repair 858-277-5426.
We service most areas of San Diego county including La Jolla, Del Mar, Encinitas, UTC, El Cajon, Santee, Chula Vista, Eastlake, Bonita, Imperial Beach and many other San Diego locations.
With us you are covered in North County. From Rancho Bernardo, Escondido to Vista, San Marcos, San Elijo and Carlsbad.
Popular Appliance Brands We Can Repair are Magic Chef, Samsung, Frigidaire, Bosch, Amana, LG Electrolux, Fisher & Paykel, GE, Maytag, KitchenAid, Whirpool, Kenmore, Miele, Jenn-Air.
San Diego residents call us with questions about many different types of appliance repair and we can help in most cases. Unfortunately we do not repair small appliances. Here are some items that we can not fix: toasters, blenders, exhaust fans, microwave ovens, mixers, food processors, coffee makers, espresso machines, vacuum cleaners, trash compactors.